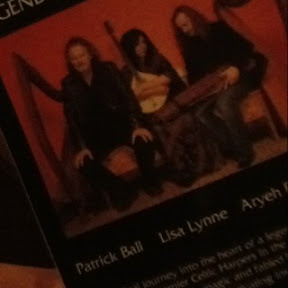 I attended a shocking and exciting concert at Spreckels Performing Arts Center in Rhonert Park on November 12 to see Legends of the Celtic Harp with Patrick Ball, Lisa Lynne and Aryeh Frankfurter.
Oh my goodness! Patrick's metal strung harp endured a string snapping in the middle of a performance in which the three artists played different instruments and Patrick recited Ursula K. Leguin's famous harp story. Here's the thing: the three didn't miss a beat adapting mid-performance,
communicated regarding who would do what (it seemed) all the while Patrick continued telling the story AND restringing his harp, tuning it, and jumping back in to play.
Seriously, I didn't know what to do. Listen to the performance as intended? Watch beautiful Lisa Lynne and Aryeh Frankfurter in what seemed to be a seamless compensation for a downed comrade? Stare at Patrick Ball snatching time in between spoken word segments? Argh! I loved it. Real live drama. Real live art.
Oh I got so much more than my money's worth. I got to see real musician-artists-magicians. I am a fan for life.
I am concerned that the three of them think I am a stalker. I just stare at them after the performance in the lobby-not yet finding the courage to say anything to them.
It was the same with Barbara Eden. I met her once. I could barely say a coherent sentence. She was so gracious. Perhaps the harp players will be the same.
- Posted using BlogPress from my iPad